Happy Birthday wishes are special; they are sweet as well as heart-touching. It is always great to wish someone a happy birthday in their native language. Even though Hindi is not the native language of many people, but people who are familiar with Hindi, love to read happy birthday wishes in Hindi. To help you wish someone on their birthday, we have listed the top Hindi birthday wishes for you. Wishing someone a Happy Birthday is always great. But Birthday Wishes in Hindi as a native language is always best for making someone's day special and memorable. You can refer to this blog to get the best birthday wishes in hindi.
Happy Birthday Wishes in Hindi
The language of love as well as emotions, Hindi is the one language that every other language in the world should be jealous of. We all love to speak, read and write in Hindi, but often fail to use it in our day to day life. Wishing someone a Happy Birthday is always great. But Birthday Wishes in Hindi are always best for making someone's day special and memorable. If you are planning to pen down a Birthday Wishes in Hindi for a family member or a dear friend, you have arrived at the right place. To help you with that, we have provided a list of some of the best Hindi birthday messages for you to use on the morning of your loved one's birthday.
Is Birthday par aapko
Itna pyaar, samman aur sneh mile
Ki aapka jivan khusiyo se bhar jaye
Aur aap sada muskurate rahe…
Happy Birthday
Duwao me tumhe rab se manga tha
Humne, tumhari ek muskaan
Humare saare gam bhula deti hai
Humare laadle aaj ka din hum
Sabke liye khusiyo ki saugaat
Lekar aaya hai.
Happy Birthday!
Buland rahe sada aapke sitare
Talti rahe appki saari balaye
Yahi duaa humari.
Happy Birthday!
Kaliyo ne amrit ka jaam bheja hai, chanda
ne aasma se salaam bheja hai, mubaarak
ho bete aapko janamdin, humne sacche
dil se vo pegaam bheja hai
Happy Birthday.
Happy Birthday
Muskurati rahe ye zindagi
tumhari, ye duaa hai har pal
khuda se humari, phoolon se
saji ho har raah tumhari,
jisse mehake har subah
aur shaam tumhari!
Happy Birthday
Mera dil duaa karta hai ki
aap hamesha khush rahe kahi
bhi dukhi na ho aapka
dil saagar ki tarah gehara
ho aur hamesha khusiyo se
bhara ho...!!
Happy Birthday
Aasma ka chand teri baahon me ho,
tu jo chahe vo teri raaho me ho,
har vo kyaab ho pura jo teri aankhon me ho,
khush kismat ki har lakir teri haatho me ho...
Happy Birthday
Janamdin hai aapka sochta hu tohfa kya du
sochta hu is saal naya khitab kya du
gulab se badkar koi phool hota to deta zarur
magar jo khud gulab hai use gulab kya du
Happy Birthday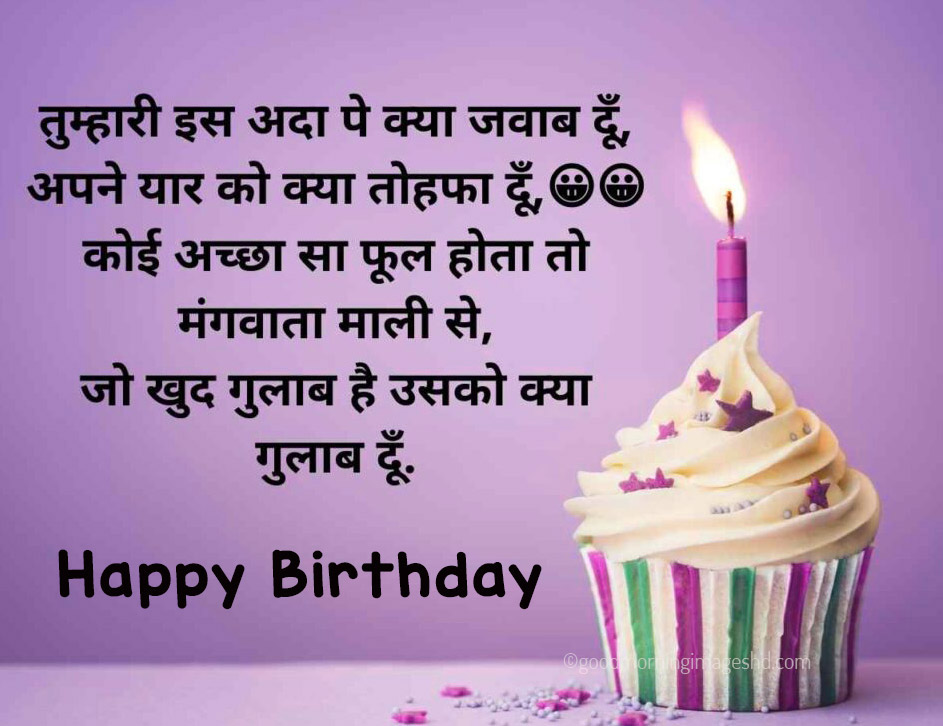 Tumhari is ada pe kya jawab du
apne yaar ko kya tohfa du
koi accha sa phool hota to
mangwata mali se
jo khud gulab hai usko kya
gulab du.
Happy Birthday
Tohfe me dil de du, ya chand
sitare, janamdin pe kya du, saari
zindagi tere naam likh du.
Happy Birthday, Dear.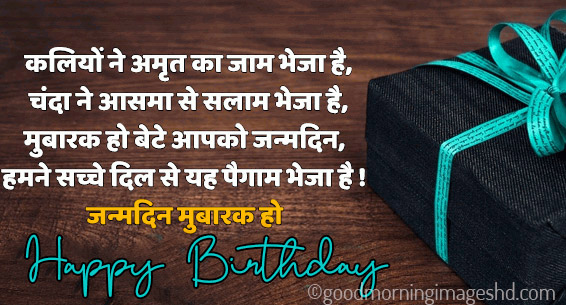 Happy Birthday, Dear!!
Har raah aasan ho, har
raah par khusiya ho
har din khubsurat ho,
aisa hi pura jivan
ho, yahi har din meri
duaa ho
Happy Birthday
Tamanao se bhari ho zindagi
khwahish se bhara ho har pal
daaman bhi chhota lagne lage
itni khusiya de aapko aane wala kal.
Happy Birthday
Khud bhi nachenge tumko bhi
nachaenge...
Badi dhoom-dhaam se tumhara
Birthday banayenge.
Happy Birthday
Meri bagh ka vo phool hai tu
jo meri zindagi ko hai mehkati,
ek din is bagh ko chod
tu kisi aur bagh ko mehkayegi
Happy Birthday, Beta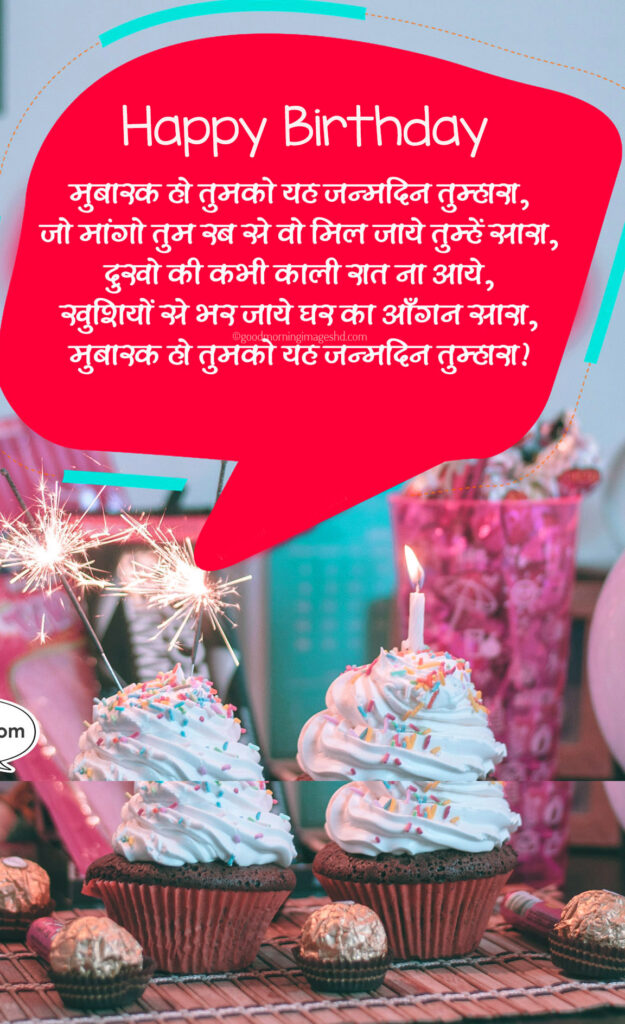 Mubaarak ho tumko ye janamdin tumhara
jo mango tum rab se vo mil jaye tumhe saara,
dukho ki bhi kali raat na aaye
khusiyo se bhar jaye ghar ka aangan saara
mubaarak ho tumko yeh janamdin tumhara!
Happy Birthday
Apne bachpan ke sapno ko
ab pura karne ka samay aa
gaya hai aapko 18 vi
janamdin ki hardik badhai..
Kabhi na tute humari jodi
bana rahe yeh pyaar,
janamdin ki badhai ho priy
7 janmo ka hai humara karar.
Happy Birthday
Beti aaj tak humne
saayad na kaha par aaj
kehna chahte hai
aaj sabse yaadgaar din hai
kyuki aaj sabse
anmol taufa humko
mila tha aur vo tum ho.
Happy Birthday
Duaa mile bando se khusiya mile jag se,
saath mile apno se rehmat mile rab se,
zindagi me aap ko bepanha pyaar mile,
khush rahe aap duniya me zyada sab se!!
Happy Birthday
Aap sabse pyaar vyakti hai
jinhe mai janti hu, aur ye
janamdin aapke liye ek
naee suruaat lekar aaye.
Happy Birthday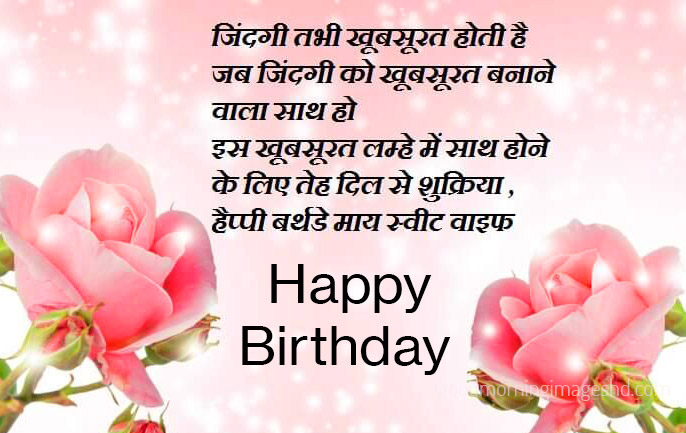 Zindagi tabhi khubsurat hoti hai
jab zindagi ko khubsurat banane
wala saath ho
is khubsurat lamhe me saath hone
ke liye tahe dil se sukriya.
Happy Birthday
Read: Good Night
Rahenge tere dil me hardam,
humara pyaar kabhi na hoga kam,
chahe kitni bhi aaye
zindagi me khusiya aur gam
rahenge hum dono saath-saath hardam.
Happy Birthday
Is pyaar bhare subh avsar par humari
bitiya ko humari taraf se
janamdin ki bahut-bahut hardik
badhaiya.
Happy Birthday
Ae khuda, mere yaar ka daaman khusiyo
se saja de, uske janamdin par
uski koi raza de, dar par aaunga
tere mai har saal, ki usko gale ki
koi wajah na de...
Happy Birthday
Aapke jivan ka
naya saal suru
ho gaya hai
bhagwan se duaa
hai ki aapka
pura bhavisya pyaar
aur dekh-bhaal se
bhar jaye.
Happy Birthday
Zindagi ki kuch khaas duaayein le lo humse
janamdin par kuch nazrane le lo humse,
bhar de rang jo aapke jivan ke palo me
aap vo pyaar mubaarakbaad le lo humse.
Happy Birthday
Chahat ke yeh kaise afsane huye,
khud nazaro me apne begane huye,
kisi bhi rishtey ka khyaal nahi mujhe
ishq me tere is kadar diwane huye.
Happy Birthday
Jis sin tum paida huye the vo din humari
zindagi ka sabse khaas din hai us din
humari zindagi me khusiya puri ho gaye hai
tumhare dil se sukriya jo tum humari zindagi
me humare bete ke rup me aaye.
Happy Birthday
Dur hai to kya huaa aaj ka din to hume yaad hai,
tum na sahi par tumhara saayan to humare saath hai,
tumhe lagta hai hum sab bhool jate hai,
par dekhlo tumhara janamdin to hume yaad nahi.
Happy Birthday
Aise adbhut dost ko janamdin ki badhai!
mai aapko aane wale varsh ke
liye dher saari subhkamanaye deta hu
Happy Birthday
Mai tumhare dil me rehta hu, iseelie har
dard sehta hu,
koi mujhse pehle wish na kar de
aapko,
iseelie mai advance me 
Happy Birthday kehta hu.
Tere jaise dost duniya me hote hai FEW,
chote-se mere is dil me only hai TU,
jita rahe jo saalo-saal vo ped ho TU,
ye bhagwan se duaa hai meri ONLY FOR YOU,
yeh special message hai just for you...
Happy Birthday
Priy chacha, aaj aapka din hai,
iska pura aanand le
lamba aur khushaal jivan jiye.
Bhagyashali tum ek aur varsh.
Happy Birthday.
Jab se aaye ho tum meri
zindagi me
hume khushi bepanah mili hai
tumse pa kar mohabbat had se
zyada hume jine ki wajah mili hai.
Happy Birthday
Read: Motivational Quotes
Duaa hai ki kamyabi ke har shikhar par
aapka naam hoga,
aapke har kadam par duniya ka salaam hoga,
aap zindagi ki har pariksha me safal ho.
Happy Birthday
Baar-baar din ye aaye,
baar-baar dil le gaaye...
tu jiye hazaro saal
ye meri hai... aarzu..
Happy Birthday
Haste rahe aap karodo ke beech
khilte rahe aap lakho ke beech
roshan rahe aap hazaro ke beech
jaise rehta hai aasma suraj ke beech.
Happy Birthday
Subh din ye aaye aapke jivan me
hazaar baar, aur hum aapko
janamdin mubaarak kehte hai har baar.
Happy Birthday
Tammana karte ho aap
jin khusiyo ki
vo khusiyo aapke kadmo
me ho,
ishwar aapkovo sab
hakikat me de,
jo socha aapne sapno me ho.
Happy Birthday
Us din khuda ne bhi jasna manaya hoga,
jis din aapko apne hatho se
banaya hoga,
usne bhi bahaye honge aashu...
jis ding aapko dharti par bhej kar,
khud ko akela paya hoga...
Happy Birthday
Khud bhi nachenge tumko bhi
nachaenge badi dhoom-dhaam se
tumhara Birthday banayenge gift
me maango agar jaan humari to
aapki kismat has kar
kurba ho jayenge
Happy Birthday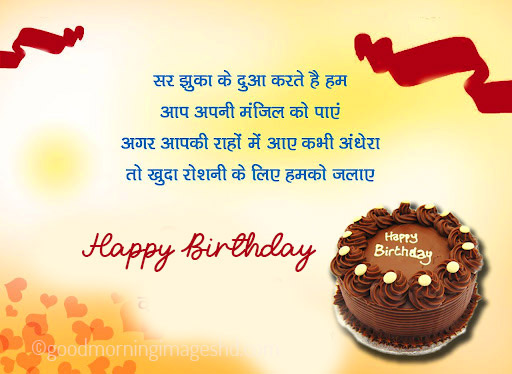 Sir jhuka ke duaa karte hai hum
aap apni manzil ko paye
agar aapko raaho me aaye kabhi andhera
to khuda roshni ke liye humko jalaye
Happy Birthday
Meri didi ki har khwahish ko puri
karne wale mere samajhdaar jiju ko
Happy Birthday
Taufa mai tujhe aaj mera dil hi deta hu
ye hasin mauka gavana nahi chahta hu
apne dil ki baat tumhare saamne batlata hu
aur tumhare janamdin ki shubhkamnaye deta hu
Happy Birthday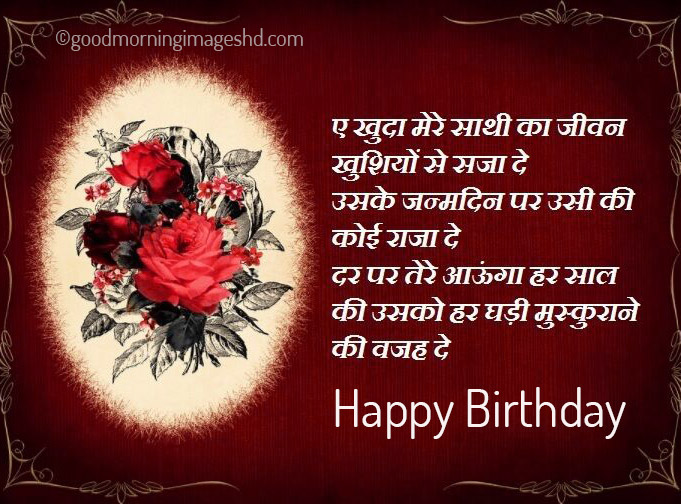 Ae khud mere saathi ka jivan
khusiyo se saja de
uske janamdin par usi ki
koi raza de
dar par tere aaunga har saal
ki usko har ghadi muskurane
ki wajah de
Happy Birthday
When it comes to wishing someone a Happy Birthday in India, the traditional Birthday Wishes in Hindi are most popular than any English one. These Birthday Wishes are loved by most Indians.
A Birthday in India is not just a day but it is an occasion to celebrate the life of loved ones. It is a time to remember all the special moments and cherish the presence of people around. As a Hindi greeting card company, we always try to give our best to make your day special. We try to make your loved ones feel special and make their day memorable. In this article, you can get a collection of some of the best Birthday Wishes in Hindi language for your loved ones.